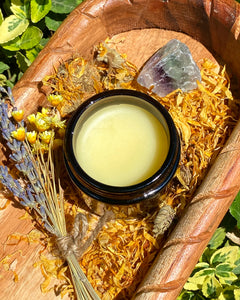 New Dandelion Salve is a skin saver!  

Use on rough chapped skin, arthritic joints, achy muscles, inflammed skin, eczema, psoriasis, severe diaper rash, raw skin folds. Provides plant powered relief. Speeds healthy skin cell turnover. Has collagen boosting qualities for the skin. 


Made from wild harvested dandelion, organic candelilla wax, sweet almond, and olive oil. 
Use as needed.
2 oz ( Jar style may vary)